The month of October 2005 was our wedding month, and we took the whole month off from Guatemala and went back to the US to visit family and friends.
The wedding itself was at Carley's parents' house in Tupelo, Mississippi, at around sunset on October 15. It was a beautiful, intimate ceremony on the back patio, with about 40 of our closest family and friends (mostly Carley's friends from Mississippi).
Carley's parents' house in Tupelo, Mississippi, where we spent the first 2 weeks of our trip.
The deck behind Carley's parents' house, where we had our wedding ceremony
The proud father and mother of the bride (at the rehearsal dinner)
Carley and long-time friends from high school and college, at the rehearsal dinner
Rob escorts his mom Karen into the ceremony
Here comes the bride!
Happily married!
The subsequent reception inside the house featured an incredible spread of food and drink, and we relished the spotlight as everyone tried to get a minute or two to talk with us.
The reception gets started. Our flower girl and niece, Adrianna, is at Carley's side.
Yum!
Mmmmm
After the reception, with Rob's sister Brandi and brother Chris (the best man for our ceremony)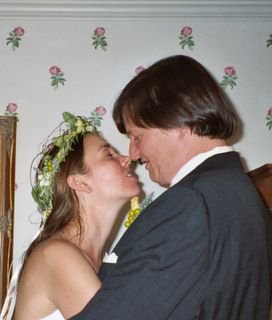 Post-wedding bliss
Here you can view an on-line photo album of the wedding ceremony and reception
. (free, but registration required)
*** We're expecting to have more photos of the wedding ceremony and reception available soon, so you may want to check back here. ***
At the end of the night we headed off on a quick little "
southern honeymoon
".
After 2 weeks in Mississippi, it was time to fly out to San Francisco, California, where the majority of our friends live these days. On October 22, exactly a week after the wedding ceremony, we held a blowout party for about 100 of our closest friends at the beautiful and classy
Cafe Du Nord
, featuring 2 live bands (
Somethingfour
and Alan Hertz Project), an open bar, and an awesome spread of food.
Ellen gives a toast at the San Francisco party
Our friends waiting to toast us
Cheers!
Uh oh...tequila shots!
View the official photo album, thanks to our friend and ace photographer Sue Weiand.
Also here are a couple of other on-line photo albums of the party, thanks to our friends
Elaine
and
Noah
:
After the wedding party on October 22, we headed up to beautiful Mendocino County in northern California for a 4-day "
California honeymoon
". On this trip we enjoyed mineral hot springs, massage, spa, fantastic gourmet vegetarian food, wine-tasting at local wineries, and hiking on the spectacular Mendocino coastline.
After the honeymoon, we spent one more week in San Francisco, where we got to catch up some more with our friends, as well as catch some concerts by 2 of our favorite bands,
Galactic
and
Sound Tribe Sector 9
.
On November 3, thoroughly blissed out from our fantastic wedding vaction in the US, we got on a plane and flew back to Guatemala.
Check out our "southern honeymoon"
Check out our "California honeymoon"
Go back to the home page